Defining Performance Terms Used Throughout This Portfolio
We don't just care about making words sound right: we care about using them to reflect accurate meaning. Therefore, before diving into the performance claims of this page, please take a moment to review how we define what we're measuring. 
Leads
No, by "leads" we don't mean lame website form submissions with just an email address: we mean form submissions with a first name, last name, valid phone number, and valid email address.
Organic Leads
"Organic leads" refers to leads generated by marketing staff labor (primarily via the company's website), instead of leads paid for and received from third-party lead vendors and paid platforms. 
Self-generated Leads
Self-generated leads include organic leads, but also include leads generated from platforms managed directly by marketing staff labor: e.g., leads generated from Facebook Ads Manager or Google Ads. 
Opportunities
An opportunity is a lead that has been pushed through a sales development representative (SDR) to the next stage of closing for a sale. E.g., a lead can become an opportunity if the prospective customer involved wants to meet with a sales person and has scheduled a time to do so. 
Sales Qualified Opportunities (SQO's)
A sales qualified opportunity (SQO) is defined exactly as an opportunity, except that it has been verified correctly by the SDR or salesperson as an opportunity who is qualified and able to purchase the product once an appointment has been scheduled. E.g., in the solar industry, this means a requisite credit score, verified homeownership, and the minimum level of electricity usage necessary to justify selling the product for the purpose of saving the prospective customer money. 
Go Solar Group 
Please visit https://web.archive.org/web/20220705163112/http://gosolargroup.com/ for the most recent unformatted backup of the website from July 2022 (organization appears defunct as of the aforementioned date).
James worked with Go Solar Group from December 2017 until April 2022. Hired as the organization's digital marketing manager, he was promoted to Director of Marketing in March 2018 and, ultimately, Vice President of Marketing in December 2021.
1. Digital Marketing Analytics Improvement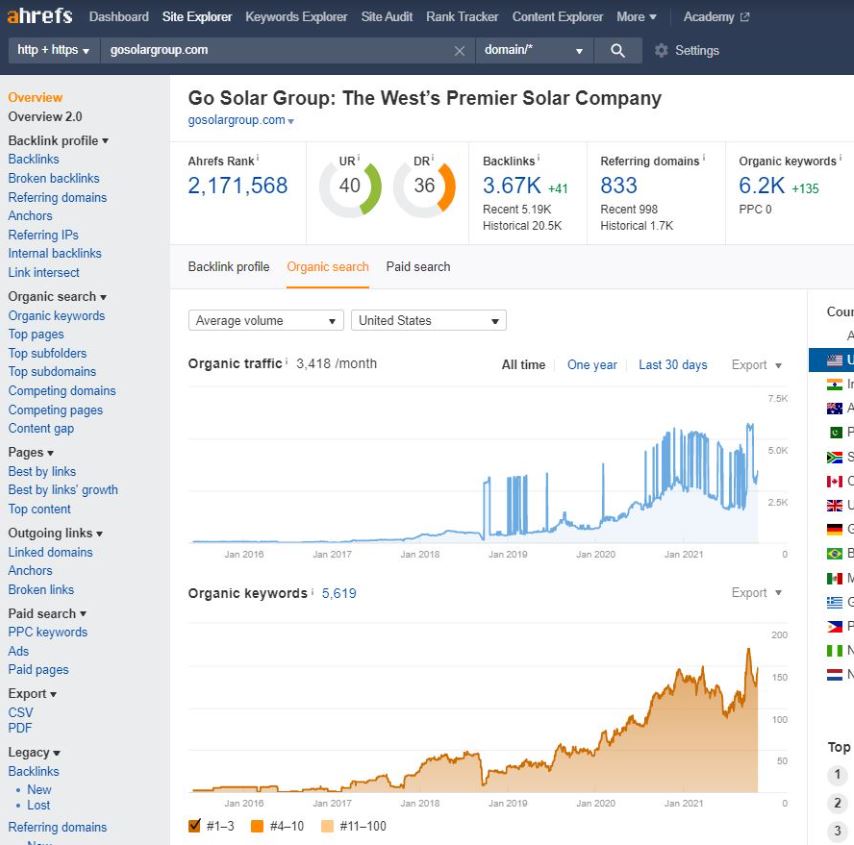 Generated 6,263 new organic keywords in 1-3 slots of Google
Increased referring domains from 0 to 1k 
Increased referring pages from 0 to 2.5k
1,869.7% increase in conversion rate – 38,400% increase in conversions
180 new organic keywords in 1-3 slots in U.S. and 500+ domain results in the 4-10 slots
2. Organic Website Leads Generated 
*These statistics reflect the volume of leads with phone numbers, email addresses, first names, and last names. Partial form fills are excluded in the tabulation.*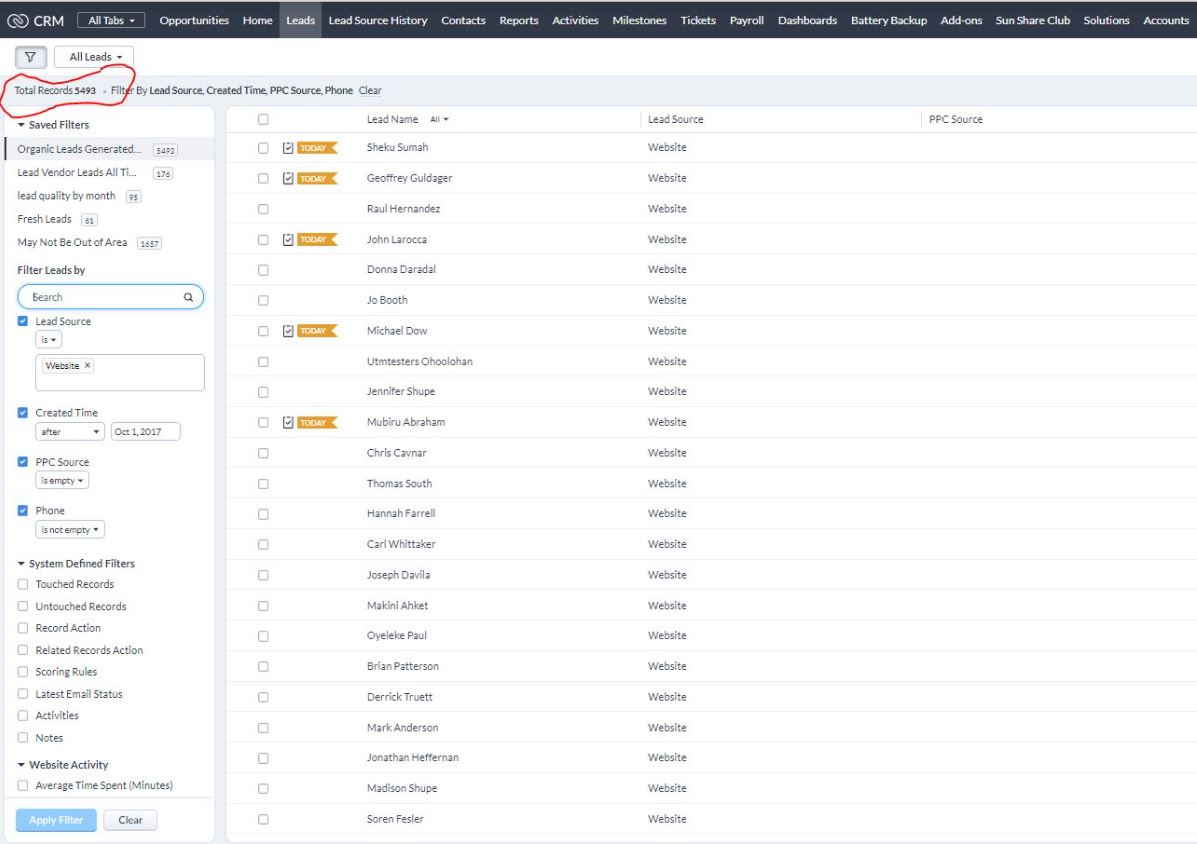 379 organic leads generated prior to Oct. 1 2017
5,493 organic website leads generated after Oct. 1 2017
= 1,449.3% Increase
3. Website-Generated Sales Qualified Opportunities (SQOs)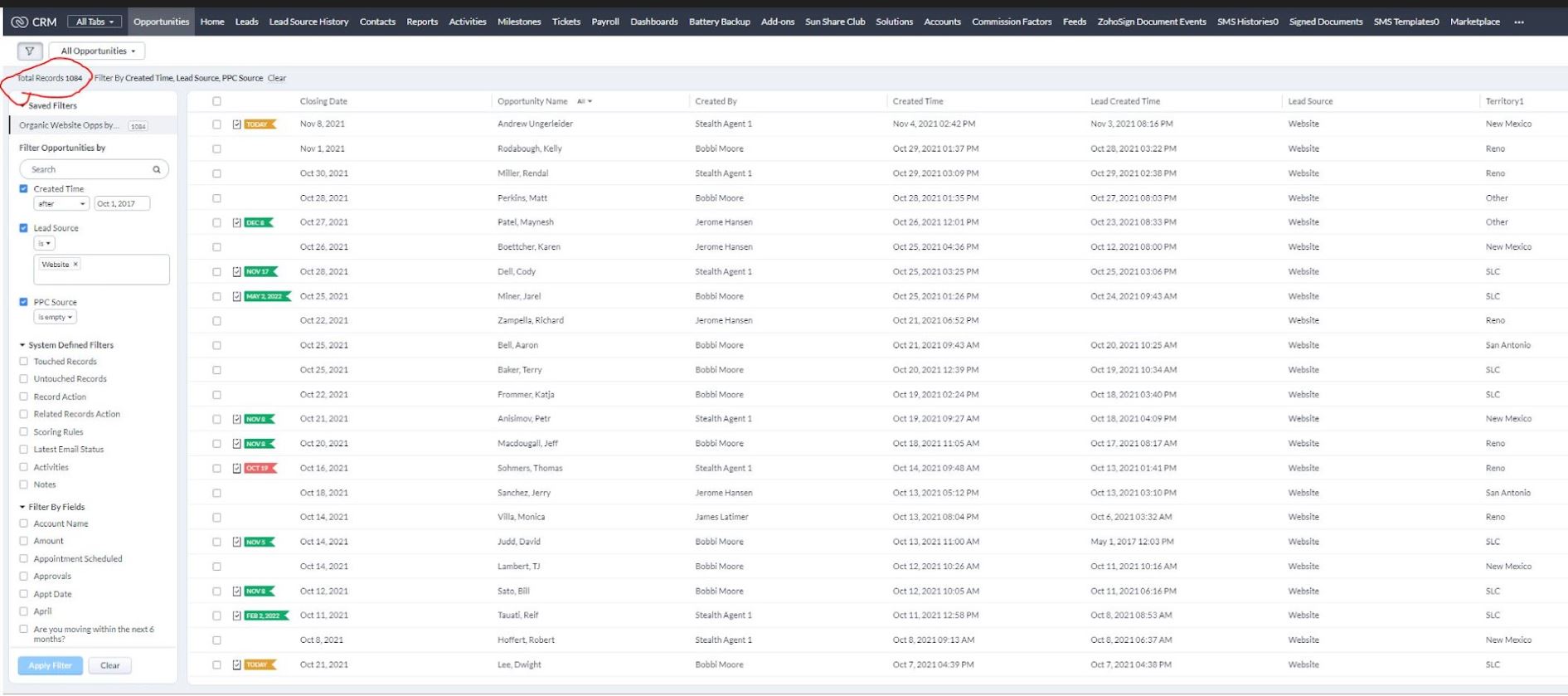 = 1,178.3% Increase
4. Sales from Organic Website Leads
13 sales and $290,105 in revenue prior to Oct. 1 2017
232 sales and $5,898,563 in revenue after Oct. 1 2017
= 1,784.6% Increase and 2,033.3% Increase, Respectively
5. PPC (Pay-Per-Click) Facebook

Facebook cost per lead before hire date: $173.27
Facebook cost per lead after hire date: $36.87
= 469.95% Decrease in Facebook Lead Costs
6. PPC (Pay-Per-Click) Google Ads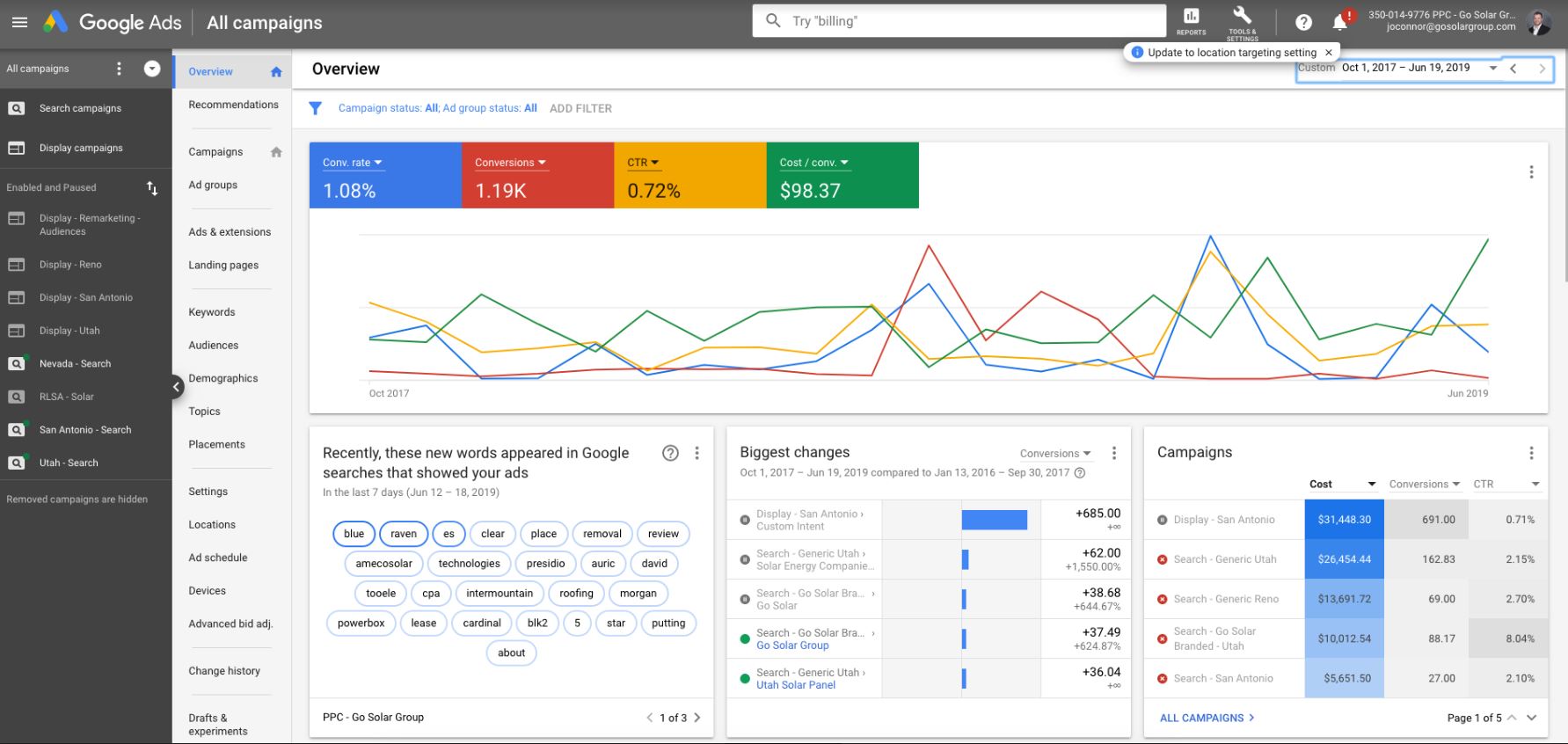 Google Ads Conversion rate, total conversions, click-through rate, and cost per conversion before taking over the platform: Cost per conversion = $318 | click through rate (CTR) = 0.62% | 37 total conversions | 0.94% conversion rate
Google Ads Conversion rate, total conversions, click-through rate, and cost per conversion after taking over the platform: Cost per conversion = $98.37 | CTR = 0.72% | 1,190 total conversions | 1.08% conversion rate
= 3,216.21% Increase in Leads Generated with Google Ads
= 323.27% Decrease in Google Ads Cost Per Conversion
= 16.13% Google Ads CTR Increase
7. Keyword and SEO KPIs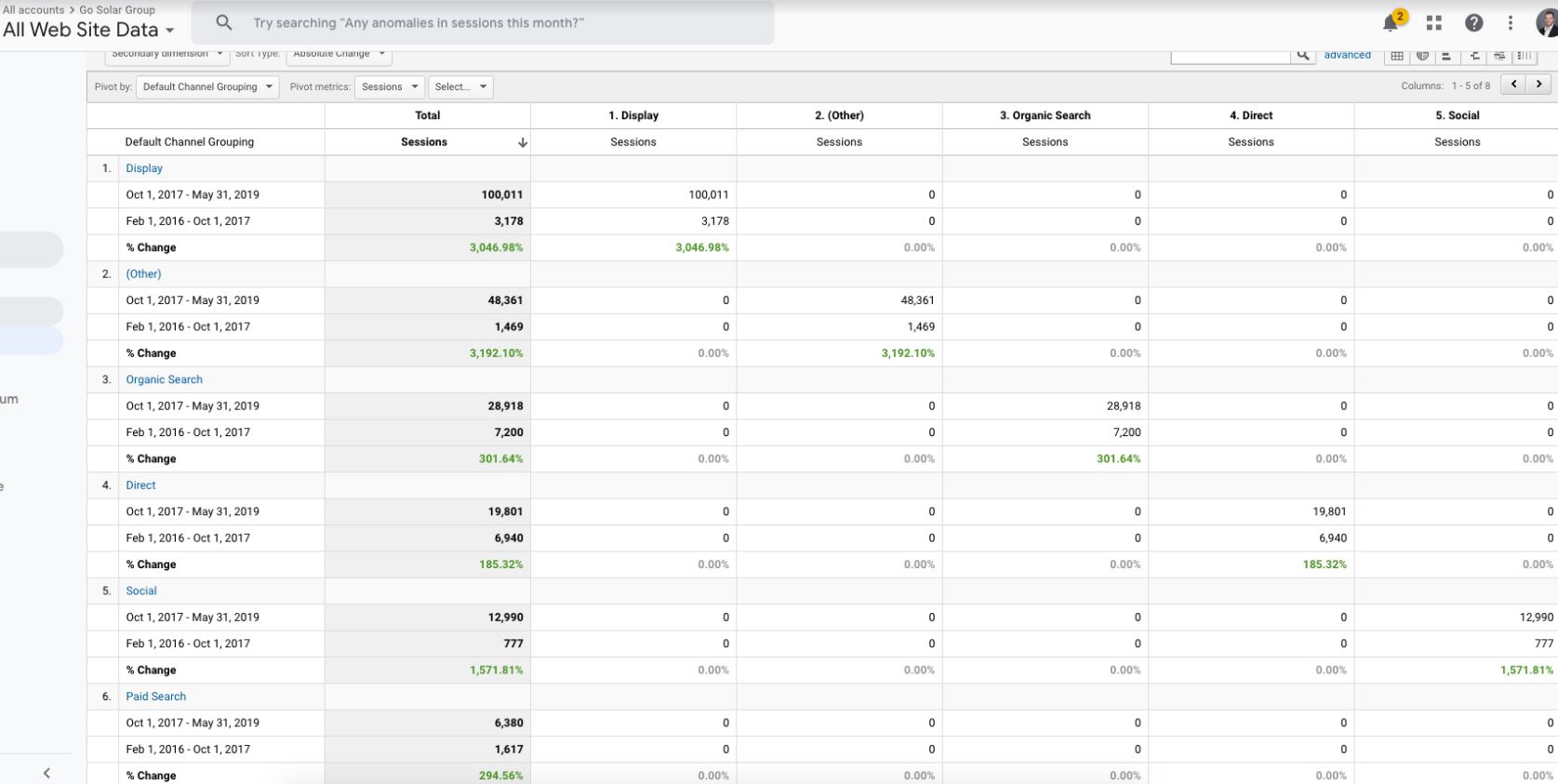 SEMRush competitor performance: organic keywords 
With the exception of Vivint, we were able to improve the keywords we ranked for organically better than all other major market competitors, and with what appears to be a comparatively small budget. 
Increased targeted, organic keywords ranked for on the first page of major search engines from 22 keywords to 245 keywords
1,113.636% Increase in Volume of 1st Page Organic Keywords (22 to 245)
Google Analytics visitors by traffic channel
= 185.32% Increase in Direct Traffic Sessions (6,940 to 19,801)
= 1,571.81% Increase in Social Media Traffic Sessions (777 to 12,990)
= 301.64% Increase in Website Sessions from Organic Search (7,200 to 28,918)
8. Market Research, Branding, and Lead Generation Projects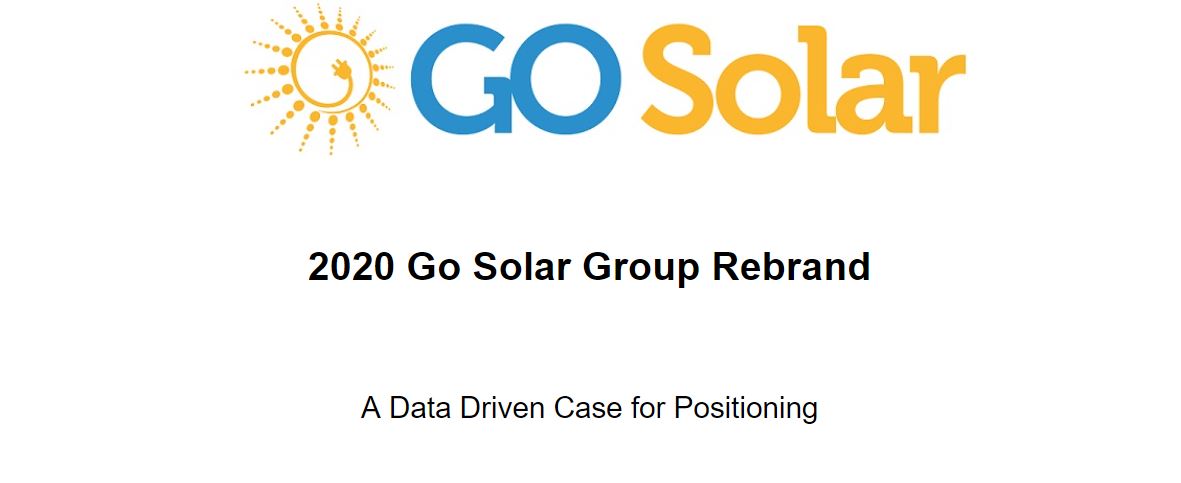 2020 Go Solar Group rebrand strategy and implementation
This 11-page presentation details a full rebrand strategy for Go Solar Group, making a case for how we could improve our performance in our 3 existing markets and possible future markets, including steps for successful implementation of branding and positioning concepts that would help us overcome consumers' negative misconceptions about the residential solar market, which had plagued the industry since its inception at the beginning of the last decade. 
Stochastic new market entrance decision making models and formulas
2019 research new market research methodologies 
As Director of Marketing at Go Solar Group, one of James's  most exciting and important responsibilities is conducting research that helps the owners successfully pick the next market to enter. This 16-page report, which James completed independently at the request of the owners, contains an in-depth analysis between two markets. The objective of the assignment was to pick which market would be best, as we did not want to enter 2 new markets at the same time. New Mexico won the comparison by a nose, and we have decided to enter that solar market in Q2 of 2020.
2020 digital affiliate marketing model framework
This project demonstrated the need for the owners to invest in an inbound digital affiliate marketing strategy, including strategic steps and how to implement the process. While it has been put on hold due to other more pressing projects, we still plan to implement it once we staff up our marketing department even further. 
9. Inside Sales and Sales Management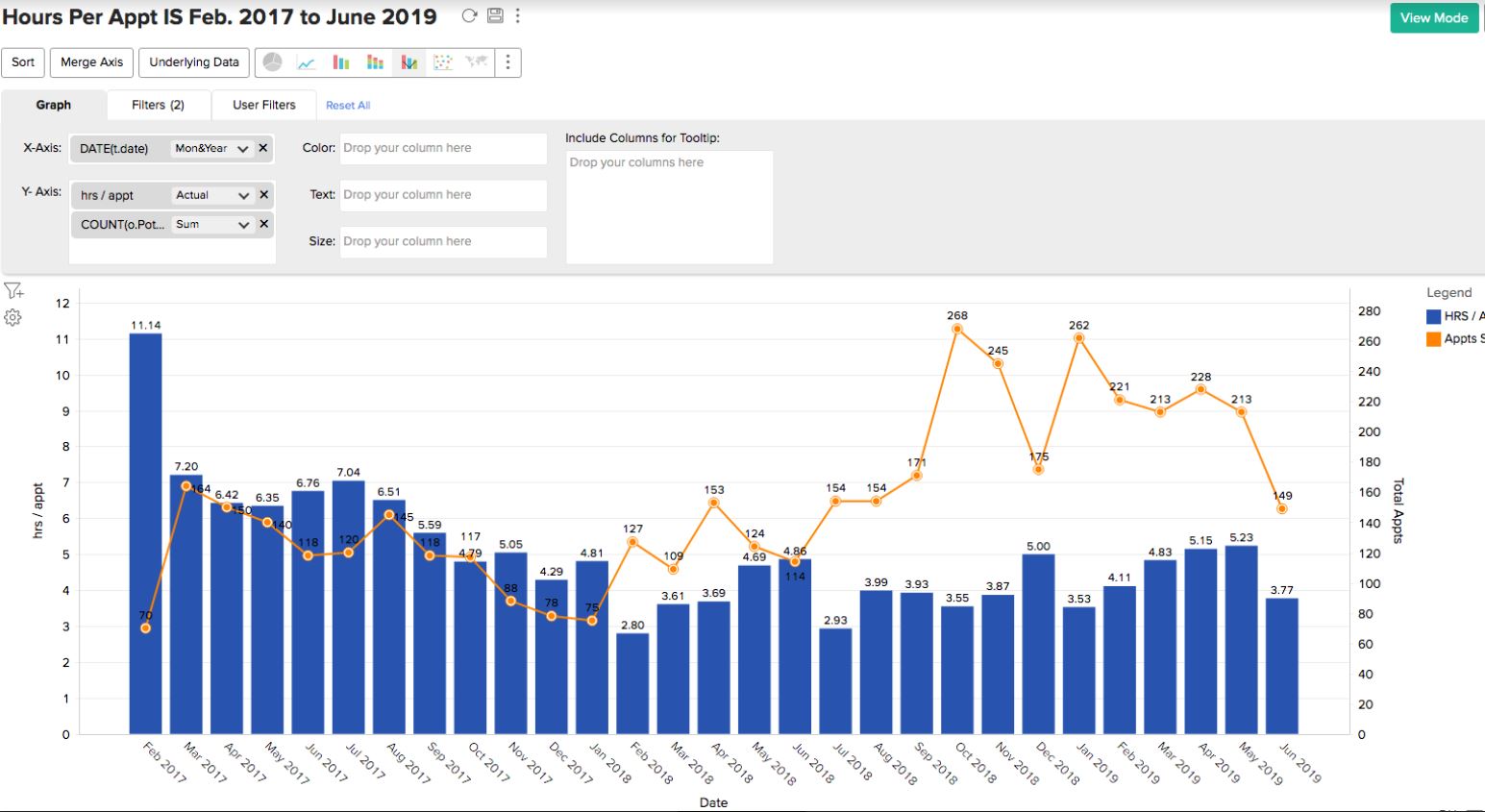 Hours per appointment (opportunity) and total opportunity volume improvement
30.63% Reduction in Hours Per Sales Qualified Opportunity (from 5.8 to 4.44)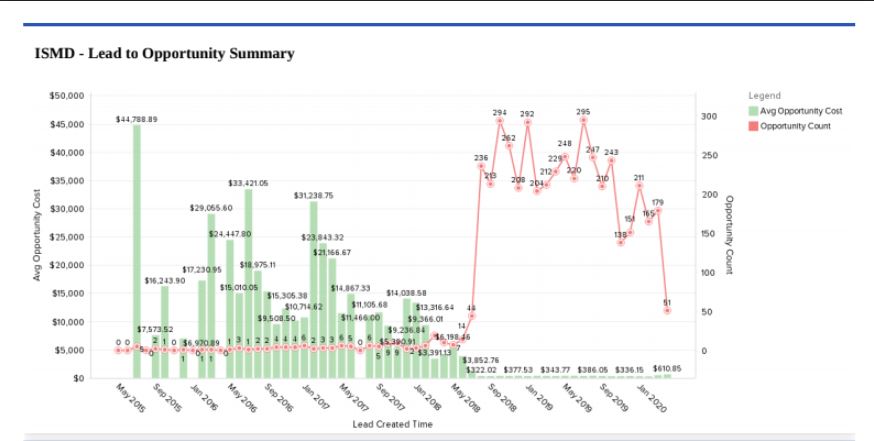 195.56% Increase in Appointment Volume (1,510 to 2,953)
This is not always as simple a metric to influence as it may appear. Motivation is a difficult thing to coach, but it can work wonders for any department's performance. James achieved the below statistic with only 1 new hire on a team of 7 reps. 
Brought outbound dials from 90,232 calls to 262,347 calls during the time James directly managed the Inside Sales team (290.74% increase) 
Native CRM lead vendor return portal architecting
Built this model for the CRM and our inside sales coordinator to reduce the amount of money spent each month on wasted leads from lead partners. 
Instructional handbook on CRM and lead dispositioning for inside sales
Directed our quality assurance manager through the process of drafting this document as training material for the inside sales department's use of Zoho CRM. 
Instructional handbook on persuasion tactics for inside sales
Wrote and enforced the use of this document as ongoing training material for inside sales reps, and trained new reps on mastering the concepts therein. 
James wrote this step-by-step guide for the training process so James could hand the responsibility off to the new Inside Sales Manager. This signified the completion of the company's first formal training program for inside sales reps. 
10. Content Writing and Creative Direction
Product repositioning and solar article placement: generating revenue in times of industry dis-incentivization
Inc.com solar article placement
The Salt Lake Tribune solar article placement #1
The Salt Lake Tribune solar article placement #2
The Periodic Table of Solar Panel Elements
With the help of our graphic designer, James was able to create what James had only up until that point been able to dream about in some sort of celluloid in the recesses of his mind – a creative content idea that conveyed our technical aptitude, creative acumen, and ability to explain the essential components of solar panels – all the while outlining the bulk of the content on the very product we sell itself. 
11. Marketing Communications Compliance and Legal Writing
STIR/SHAKEN telephony network adaptation
Many businesses were hit with the policy changes imposed by this compliance change in the telephony network. The above link shows a solution James formed for the problem.
Once implemented, our contact rates returned to normal after having declined by nearly 20%. James investigated our contact rate one evening and saw it had declined sharply despite the improved lead quality and feedback from outside solar consultants. After some research, James determined that STIR SHAKEN was the culprit. 
This policy is a huge wave of consumer-empowered and phone carrier-based contact center legislation that cracks down on legitimate fraudulent activity but oftentimes and wrongfully also businesses not engaging in fraudulent activity, which has harmed many compliant well-intentioned businesses, us being one of them. STIR SHAKEN embodies a set of technologies and standards with which contact centers are scrambling to build into their ecosystems, but the steps are nebulous. 
The carriers (AT&T, T-Mobile, Verizon, etc.) were the first to be ordered to comply with the telephone network changes, and these changes are reducing our ability to contact prospective leads. This legislation has a three-level system to categorize the essential information about the caller into levels of "attestation" for the call, and this directive clarifies what's needed to overcome the issue. We found the solution was to change our phone numbers to reverse wrongful blacklisting on the telephony network as "neighbor spoofing."
12. Non-Door-to-Door Sales Improvement During the First 3 Months of COVID-19 Pandemic
When the COVID-19 Pandemic struck and our door-to-door team couldn't knock on any doors in our operating markets, James had to scramble, get creative, and find a way to keep the sales pipeline full and the company in business. Many solar companies went belly-up during this time, but not Go Solar Group. 
Improved Non D2D sales from $1,048,603 in revenue to $1,543,950 in revenue during the first 3 months of the COVID-19 Pandemic (a 47.2% improvement).
Forbes Communication Council
Our founder was selected for this prestigious platform in 2020, 2021, and 2022. 
Forbes Communications Council member profile
3 Marketing Lessons from a 19th-century Horse
3 Reasons Marketers Should Have More Responsibility in Cross-functional Management (CFM)
AI Still Thinks More than it Knows: Marketing Missteps to Avoid
5 Key Content Marketing Principles for Startups
eFileCabinet
Content Writing and Creative Direction
Best 2016 Marketing Communications Award, K2 Enterprises
eFileCabinet's marketing department received this award for its exemplary work in marketing communications throughout the business-to-business cloud-based software industry. 
Forbes placement with backlink and quote for company CEO
James wrote this piece and we pitched it to Forbes. Roger Aitken agreed to publish, adding some great content to the original piece. 
Entrepreneur placement for eFileCabinet CEO
James wrote and edited this article from start to finish, and had it placed in Entrepreneur.com, published under the eFileCabinet CEO's byline. 
Additional Entrepreneur.com placement for eFileCabinet CEO
Another Entrpreneur.com piece James wrote from start to finish, which was successfully published under the eFileCabinet CEO's byline. 
5 World Records You Can Break at the Office with eFileCabinet
A creative and engaging piece that brings excitement to a dull topic: managing files for your business. 
Can Document Management Software Restore Consumer Trust in Enterprises?
Wrote this piece for eFileCabinet's document management software, under the CEO's byline. The article taps into the power of the technology to not just benefit businesses themselves, but the extent to which consumers can trust them with their sensitive data. 
His Heart The Crucible Short Stories and Poetry 
Selected for NPR listener call-in list recommendations
Receipt from the Untended Register
Cellblock [Poem]
James published his first collection of fictional short stories the summer after graduating from the University of Utah. In addition to persuading a co-writer of 2 New York Times Best Selling books (Teresa Barker) to write the foreword, His Heart The Crucible garnered positive reviews on Amazon.com and received mention as a recommended read the following summer on National Public Radio (NPR).
Fusion 360 Agency 
Named The Mettis Trainer, which won the 2016 CES Innovation Award
When James worked at Fusion 360, a Utah-based marketing agency, an entrepreneur came to us with a product that helped runners, golfers, and other kinds of athletes improve their footwork for their sport of choice in real time via Bluetooth and application-integrated technology in numerous ways, from improving efficiency in movement to reducing injury, without the expensive help of a coach.
James named this product the Mettis Trainer, deriving the name from the Greek God of good counsel and planning, Metis. The naming of this product oriented the company's branding objectives around providing athletes with godly technological counsel for enhancing athletic performance via their patented devices. 2 years later, the product won the 2016 CES Innovation Award. 
GreenSmartLiving 
GreenSmartLiving – killing the competition with universal humor
Sometimes repositioning your competitor in a negative light (if done ethically and truthfully) is the smartest branding strategy there is. This piece, written in 2013, does this. GreenSmartLiving is an electronic cigarette company, and this piece reveals with a humorous twist just how illogical analog cigarettes truly are, not just in popular media, but also everyday life.
Fore more samples of James's work, please visit his older writing portfolio at the following link: https://www.tumblr.com/blog/view/jfoconnor-portfolio