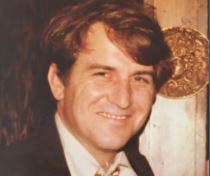 Speechwriting Sample – Richard O'Connor's Eulogy
Richard Daniel O'Connor III: Reincarnating the King, Warrior and Lover
In Loving Memory of My Father
By James F. O'Connor – WordWoven CEO
Richard Daniel O'Connor III lived a transcendent life. As a Buddhist, he believed in reincarnation; thus, we meet today not just to mourn the loss of a man we all loved, but to celebrate the passing of his spirit into a higher plane of love and compassion. We also gather to celebrate his second reincarnation in our own minds of what his life's work has given each of us – love, wisdom, and memories, so we may carry him with us. Despite being a man who loved music throughout his life, his magnum opus wasn't fit for a record player or CD. Rather, the song and dance to which he lived his life involved serving his family and others, even at great personal cost.
Richard loved the 1990 book, "King, Warrior, Magician, Lover," on the four psychological archetypes of positive masculinity. Not only was this book written in the same year I was born, it outlined positive archetypes of masculinity my father embodied, which made him an even more exemplary man in an era that appropriated toxic masculinity. The Warrior expresses himself in strong but nonviolent action. The Good King represented just and creative leadership. The Lover connected to others and to the world.
There's no appreciating the beauty of Richard's life without first understanding the personal demons he conquered, from suppressing them with his signature stiff upper lip in Catholic seminary to embracing the rugged, Southern sensibilities with which his mother imbued him. Ravaged by anxiety and depression throughout his earlier years, he developed coping abilities which helped him battle and win the war against the largest personal demons a human can face, including addiction. This developed his inner warrior, which at times made him so hard on himself that he tragically failed to see how much others loved him. This warrior, who overcame all, roused a profound fear of existence within him. He once said "If anybody knew the anxiety I had just getting out of bed in the morning, they would've thought I was a hero." As a boy in seminary, he experienced the wrath of God at the hand of his teachers. In one of his journal entries, he recounts this period of his life as follows "… I was using a lot of energy trying to do what others thought I should do, rather than doing what I wanted." 
While Richard would never have told you he was a Warrior, he was one of the highest order. As a high school football player, he routinely ran the ball through a line of defenders nearly twice his size, stating with humility that the only reason he outran everyone was because he was 'the most afraid player on the field.' During every Friday night game and at the end of every practice, when Richard's team ran wind sprints, he was so fast that only the lens of a camera could catch him. His coach would ask the team as they lined up at the starting line, "Who's gonna beat O'Connor?" Nobody could answer that question, until many decades later when Richard answered it himself. And the answer to the question, "Who's gonna beat O'Connor?" was, ironically, the only person who ever could beat him—himself. His performance as an athlete foreshadowed what would become the thematic arc of his life—overcoming difficult circumstances against all odds.
After suffering from a life-threatening case of mononucleosis in college, he realized he'd lost most of his athleticism when attempting to walk on to Notre Dame's baseball team. Had he not become so ill, there's no telling how far he could've gone as a baseball player. However, instead of giving up, he applied his toughness and discipline to his studies, reading over 400 pages per day as an undergraduate. This marked the beginning of his transformation from a physical warrior to a mental one, drawing on his intellect as a warrior's weapon despite having what was likely undiagnosed ADHD throughout his life. When Richard was completing his doctoral dissertation for his Ph.D. in education, he picked a thesis in an area with which he wasn't comfortable (statistics) and worked tirelessly on it every day, all day for an entire year, taking only one evening off to 'watch a short movie.' At work, he'd knock it out of the park, much like he did on the baseball field in high school, and use his bonuses to pay for his kids' college tuition.
His children embody many of his warrior traits; namely his work ethic, resilience, determination, and downright mental toughness. However, the hallmark of his life resides in his inner king and lover. Thus, despite all that the warrior in Richard achieved, it neither contributed to his self actualization nor serves as the definitive archetype to his indomitable spirit. As a father, he knew that to do better for his children and his family, he had to develop the gentler aspects of his spirit, which helped him recognize that the secret to change is not in focusing on fighting the old, but on building the new. In Buddhism, there is a concept of the peaceful warrior. This concept led Richard for the final half of his life in developing his inner kingdom. He strived to be more like the just and creative good king, reaching outside himself to connect with others, bringing them order, justice, and growth. In developing his inner king, he ushered in the noblest of the archetypes he would ever embody as a lover, developing and expressing this lover primarily in his work and family.
If there was one event that signified this transference in his spirit to me, it'd be the day he broke his ankle tossing a football with me on our front lawn on Wight Lane in Lake Oswego, Oregon. Running to catch my errant throw, he tripped over the curb and fell to the pavement. Despite having been hurt so badly, he wanted to keep throwing the football with me, because he could see I was having so much fun. This memory, among many others I have of him, are why boys conceive of their fathers as God. 
However, even when God seems to be on the sidelines, he is still helping us: Dad loved watching his children play sports. When the Evanston hockey program started to go downhill in sportsmanship in the 1980s, he joined the hockey program board, led adoption of new standards, and hired a great new coach. From that point on, the program made all the parents proud. He challenged systems that otherwise would have gone unquestioned, as any good king would. He understood that to serve is to rule. 
Richard spent many hours starting and running service programs for men and women in prisons. He worked hard as head of the Oregon Building Congress, founding a new alternative high school that offered students a path to high-paying apprenticeships as plumbers and carpenters. As a leader, Richard wasn't about being in charge – he was about taking care of the people in his charge.
Despite his achievements as a Warrior and King, the last and greatest step in Richard's self-actualization was learning to love himself, and this process overflowed to others. As a man who was most himself when he was laughing, he'd dress up as Santa Claus at schools, parties, and malls during the holidays, not only because it was fertile ground for jokes with perfect punchlines, but also a way to serve others: On Burnside Avenue in Portland, he went ho-ho-ho-ing down the street among the homeless, calling out, "I lost my reindeer, ho ho ho," to which one homeless man responded, "Man, in this neighborhood, somebody probably stole them and ate them." While Richard enjoyed the joke, he didn't venture into down-and-out neighborhoods looking for a laugh. He went there to make sure as many people as possible had a sense of cheer. 
In his later years, he spent less time on the clock in search of excellence, and more time following his inner compass, another signature of his kingship. Even as his health failed, his doctors were amazed by his resilience. Perhaps the love he had given others somehow stented his broken heart together, helping him endure.  A free spirit is just an old soul without karmic debt, and this was Dad's condition in which his soul left his body. In his final days, all five of us children gathered around him or spoke to him by phone to exchange our final words with him in this earthly intercession. While he had lost the ability to speak, he could still hear. In my final conversation with him on the evening before he passed away, a gentle breath of recognition exited the flume of his throat as I began to speak to him. I told him how much I loved him, thought the world of him, and that I would see him soon, at least in the timeline of eternity. After he had passed away the following morning, I envisioned him having passed in peace, cradled in the folded wings of a seraph, as tears streamed down my cheeks.
Soon, a happier vision came over me, revealing a truer vision of him and the life he had lived as a warrior, king, and lover. I envisioned him sitting in the lotus position, thumbing the beads of his Buddhist necklace through his fingers one by one, still wishing he was back in the driver's seat of his black 2006 Chevrolet Corvette with me in the passenger seat, laughing, smiling, and speeding down I-5 in Oregon … then slamming the brakes at the speed of sound and skidding into the end of his road … out of breath, thoroughly used up, worn out, and exclaiming 'Wow, what a ride!'